SUSTAINABILITY
WE'RE TAKING RESPONSIBILITY.
At yfood, we are not just passionate about complete and innovative nutrition, we are passionate about sustainability too. We are constantly working to design our entire value chain to be more sustainable. We are focusing on some key areas: minimising our CO₂ emissions, using plastic responsibly and preventing food waste.
CARBON FOOTPRINT
A COMPARISON OF OUR PRODUCTS
i

Source

Source

1. Grilled ASC salmon fillet with green salad - Muir, K., Keller, R., & Stucki, M. (2019). NOVANIMAL Teilprojekt "Menu Choice": Ökologische Bewertung von 93 Menüs in zwei Hochschlumensen. Wädenswil: ZHAW Institut für Umwelt und Natürliche Ressourcen.

2. Burger with fries and salad - WWF. 2018. Food in a warming world: The changing foods on the British plate. WWF UK


3. Falafel pitta with green salad - Muir, K., Keller, R., & Stucki, M. (2019). NOVANIMAL Teilprojekt "Menu Choice": Ökologische Bewertung von 93 Menüs in zwei Hochschlumensen. Wädenswil: ZHAW Institut für Umwelt und Natürliche Ressourcen.

4. Veggie burger and fries
- Muir, K., Keller, R., & Stucki, M. (2019). NOVANIMAL Teilprojekt "Menu Choice": Ökologische Bewertung von 93 Menüs in zwei Hochschlumensen. Wädenswil: ZHAW Institut für Umwelt und Natürliche Ressourcen.


5. yfood Produkte - ClimatePartner

Our products generate very low CO₂ emissions
To better understand our carbon footprint, we have calculated the CO₂ emissions of our products using the globally recognised GHG Protocol. This calculation factors in every step, from raw material procurement to delivery and disposal. The result: Our products produce significantly less CO₂ than many other convenience meals. For example, a yfood Classic Drink only emits about a third of the CO₂ emissions of a burger with fries and salad. Why is that? Our products are mainly produced with local raw materials using green energy, meaning we are able to to save a lot of emissions in procurement and logistics alone.
| | |
| --- | --- |
| yfood Classic Drink (500 kcal) | 0.89 |
| yfood Classic Drink (330 kcal) | 0.59 |
| yfood Lassi Drink (500 kcal) | 1.07 |
| yfood Vegan Drink (500 kcal) | 0.44 |
| yfood Classic Shake (400 kcal) | 0.15 |
| yfood Classic Shake (400 kcal) sachet | 0.28 |
| yfood Vegan Shake (400 kcal) | 0.21 |
| yfood Bar (180 - 202 kcal) | 0.30 |
We also pay attention to the CO₂ produced by our business activities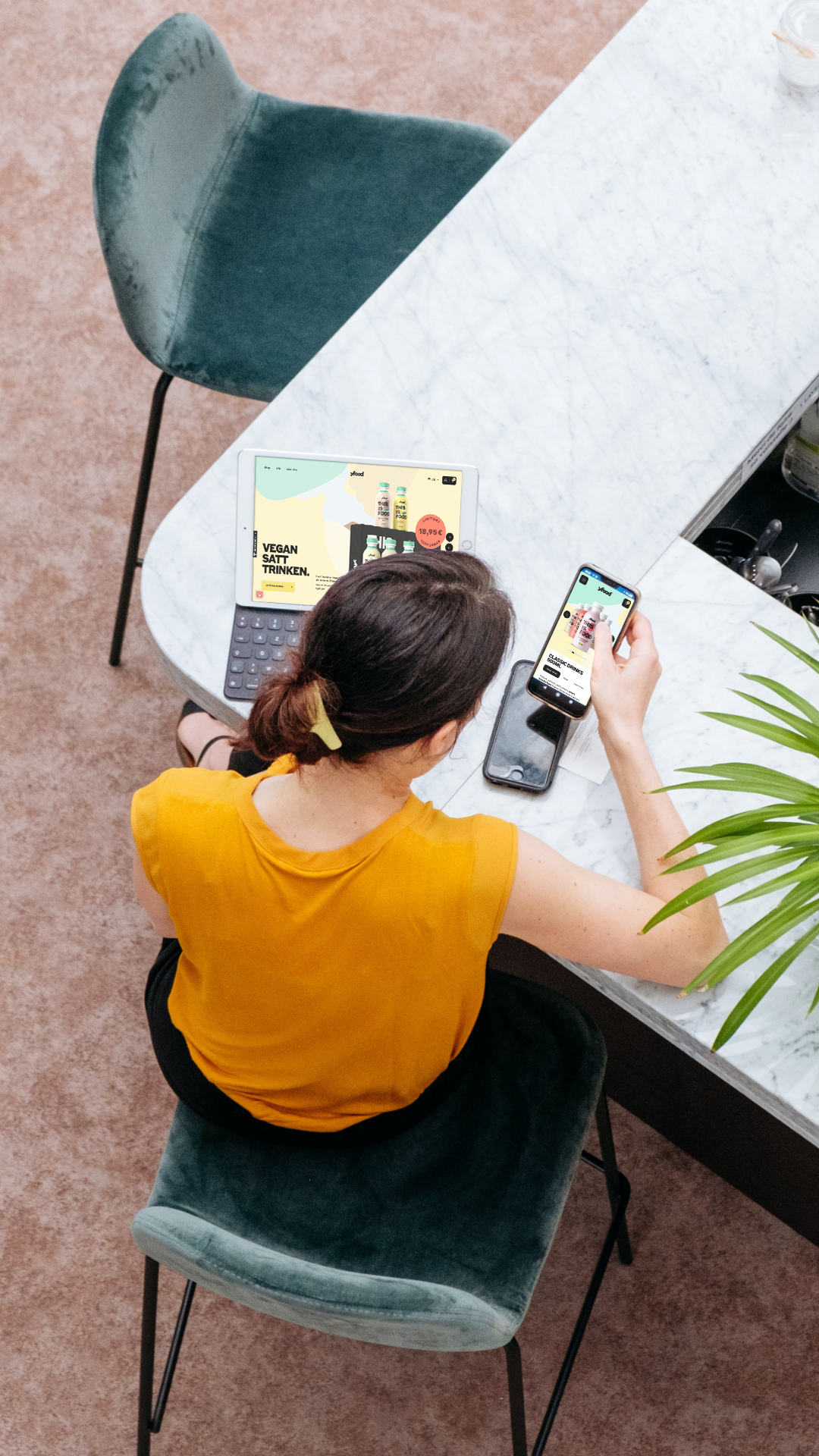 Not only have we analysed our products, but we have also analysed our emissions as a company – from our energy consumption to business trips, employee commutes to office supplies. At our Munich site with 145 employees, we emitted a total of 353.044 kg of CO₂ in 2021. That's only as much as the average emissions caused by 41 EU citizens each year. We achieve this by using regional green energy and short travel distances, as well as other measures.
| | |
| --- | --- |
| yfood as a company per year | 353.044 |
| 41 EU citizens per year | 356.700 |
| Flight Frankfurt - Sydney per person | 10.160 |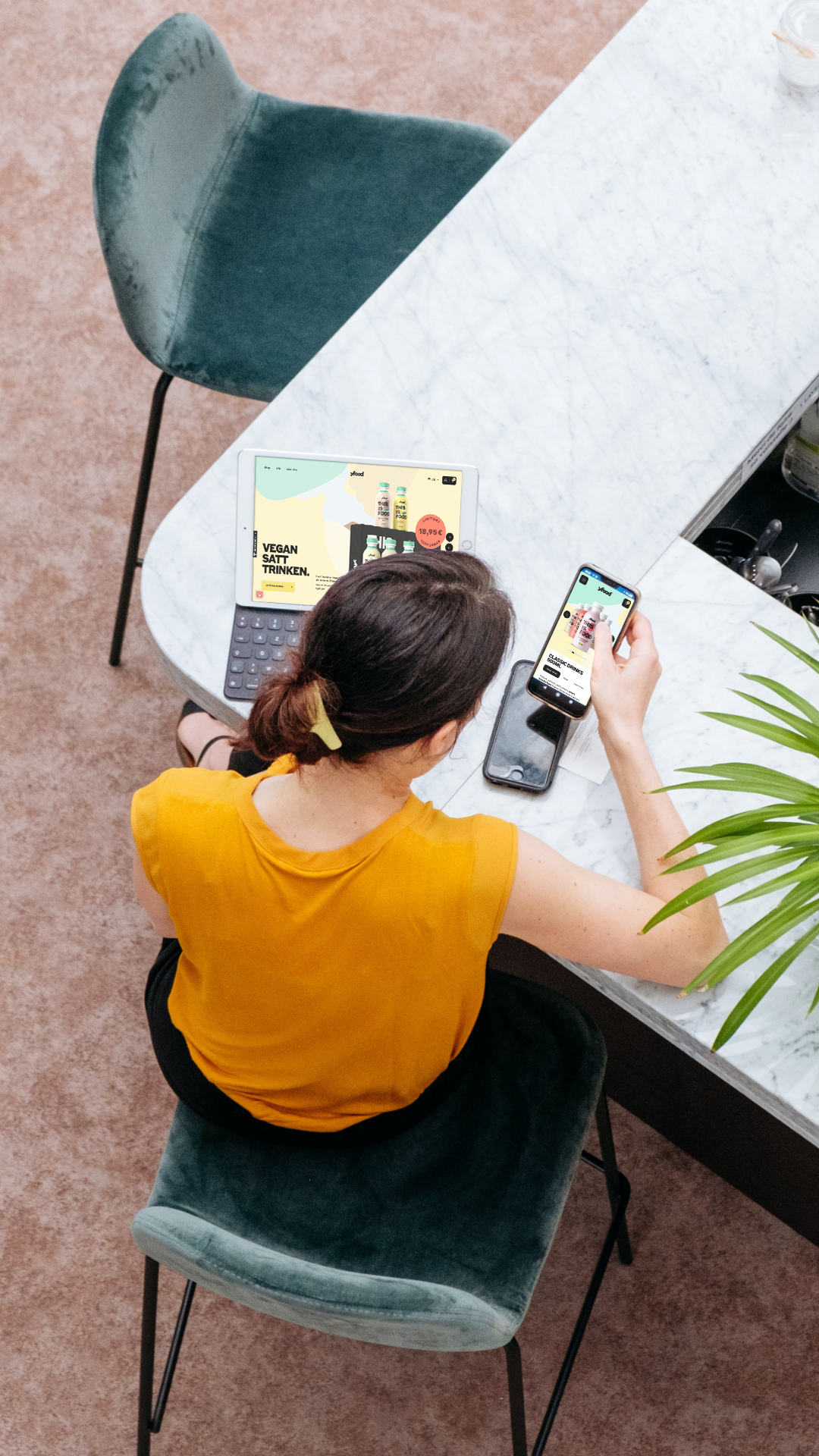 Climate neutrality through carbon offsetting.
We follow the principle of avoiding unnecessary emissions, reducing existing emissions and offsetting further emissions. After we have identified our largest CO₂ sources and are working on appropriate reduction measures, we also offset further emissions through certified climate protection projects.
What do carbon neutrality and carbon offsetting mean?
We fund internationally recognised climate-change mitigation projects, so we can offset CO₂ emissions that we can't currently avoid or reduce. They absorb greenhouse gases (e.g. through reforestation initiatives) or replace climate-damaging technologies with climate-friendly alternatives (e.g. with solar or wind plants) which help reduce CO₂ emissions. In addition to avoidance and reduction, this offsetting is an important step in holistic climate action and brings about the carbon neutrality of companies, processes and products.
The carbon-neutral label
Our strategy has meant yfood is now certified as a carbon-neutral company. And get this – our packaging is also carbon neutral. This means that we offset all emissions produced over the entire life cycle of all our packaging.
Look out for the independent "carbon neutral" label on our products marked with our yfood ID to track our offsetting measures. You can use the ID to track the amount of CO₂ we offset and to find out more about our climate-change mitigation projects. For total transparency and the motivation to achieve even more in the future.
We support certified reforestation and wind energy projects
We offset our corporate and product packaging emissions by supporting certified climate protection projects in different parts of the world.
Two projects we support in Nicaragua promote the reforestation of native bamboo trees and protect old-growth forests, transforming severely degraded landscapes into diverse ecosystems with strong CO₂ storage capacities. Another project we support reduces pressure on natural forests in Uganda through reforestation and enables more sustainable timber production. Together, all three reforestation projects enable low-emission business and also support the development of local communities. The fourth project we support in India promotes the expansion of a wind farm that uses the region's natural resources to generate electricity in an environmentally friendly way and thus counteract the shortage of electricity.
In total, the projects supported by ClimatePartner promote 15 of the 17 United Nations Sustainable Development Goals (SDGs). You can find more information about the projects and the SDGs on the ClimatePartner website.
PACKAGING
HOW WE HANDLE PLASTIC RESPONSIBLY
Why do we use plastic at all, you say? Our packaging material has to meet stringent requirements. This helps us protect our products as effectively as possible from light and oxygen and preserves the product with all its vitamins and minerals for a long time. We're always on the lookout for innovative materials: so far, plastic works best for this.
Our aim is to make yfood bottles entirely from recycled material
We try to use plastic as efficiently and sparingly as possible, which is why we have already reduced the amount of packaging material by 10%. Its light weight also means we're saving CO₂ in logistics. What's more, our yfood bottles are currently made from 30% to 50% recycled plastic and we are working to increase the recycled content to 100%. At the moment, we are still facing challenges, as the resources and processes for this don't yet exist to the extent necessary. Firstly, we need sufficient recycled material to be available on the market, so that we can reflect this higher proportion of recycling in the price our consumers pay. Another factor is that the recycled material in our bottles must be properly cleaned and processed so that the contents are safe in contact with the packaging, and so that the packaging protects the product well. We're working hard on it – we'll keep you up to date.
Returned to the cycle: 100% recyclable
yfood bottles are 100% recyclable. Of course, it's important that you also act responsibly and dispose of our bottles properly. This helps save non-renewable raw materials. To dispose of our bottles correctly, separate the aluminium seal, the lid and the bottle separately – the seal and the lid go into the household waste bin, and the bottle into the recycling bin. Hey presto – the raw materials can be fully recycled again!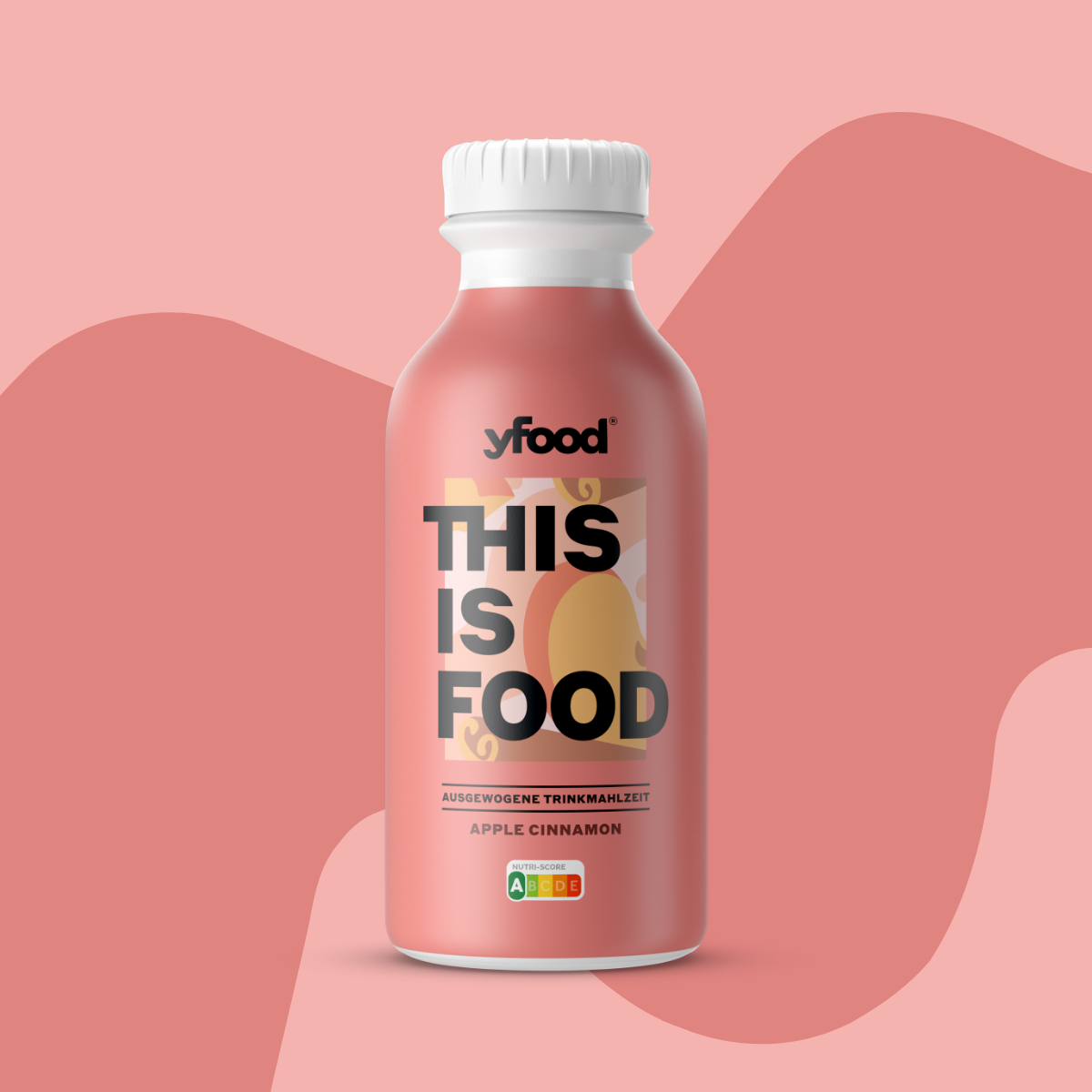 FOOD WASTE
WE'RE PREVENTING FOOD WASTE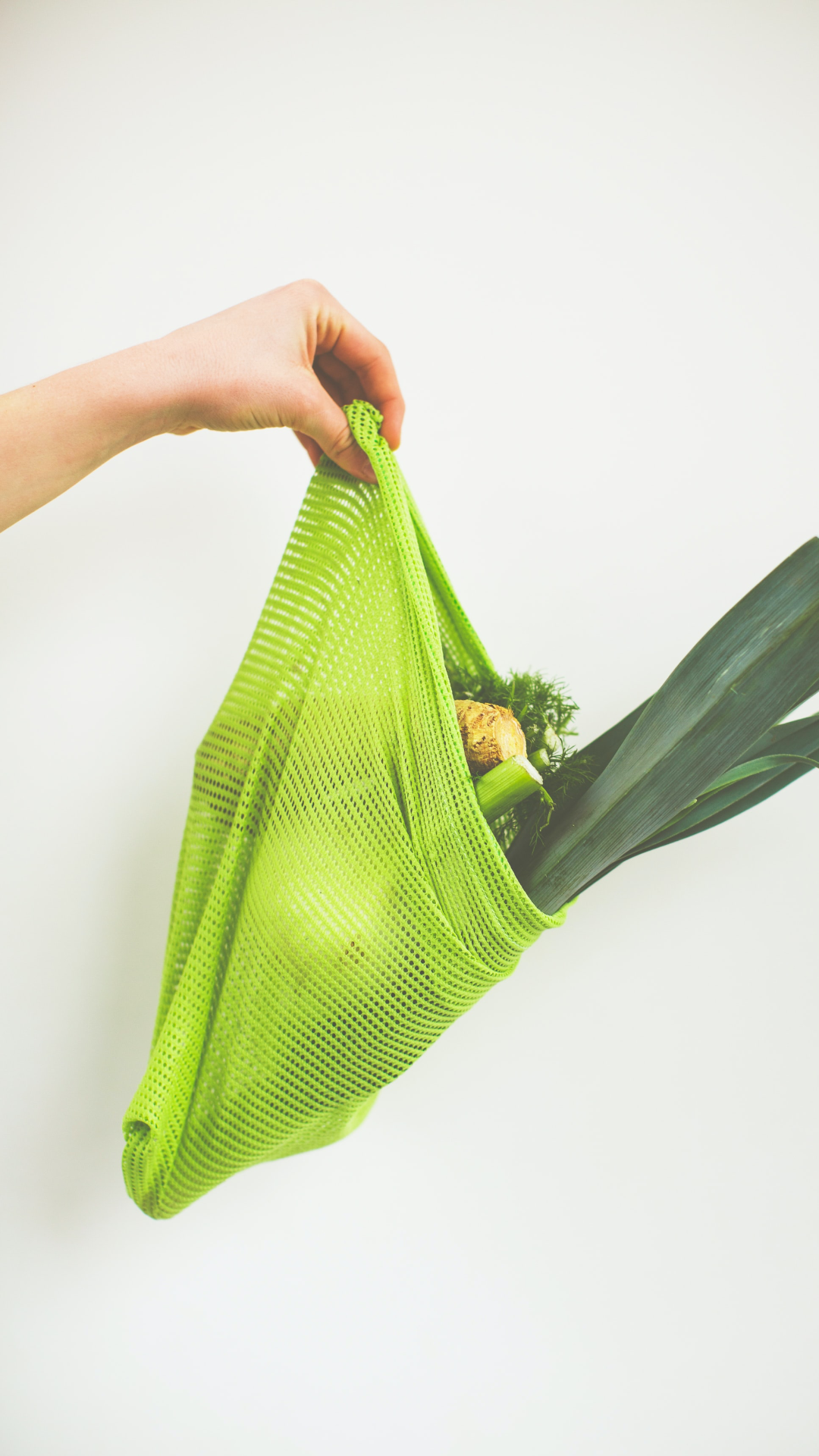 We produce balanced, delicious meals – where hardly any food waste is created as a result. Have you ever thought that there are hardly any other healthy alternatives to ready meals, which produce so little food waste? 13 million tonnes of food end up in the bin every year throughout Germany. We make use of 97% of the raw materials used in our drinks and 100% of the raw materials used in our powders. We do this by planning our production processes very carefully so we can make full use of all resources.

In addition, most of our products have a shelf life of a whole year, which means that it takes a long time for something to be discarded. In this way, we can reduce your food waste in the long term.

The ingredients for our products are mainly sourced in Europe – only a few raw materials are sourced from other parts of the world due to local availability and current changes in supply.